Artificial Reef Internships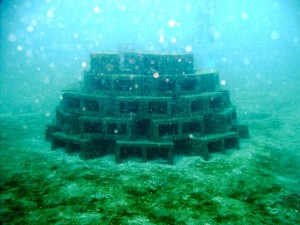 There is no better way to enrich and improve your education than participating in 'real world experiences' study and learn with a scuba internship experience. As a larger percentage of people are attending college and universities each year, it is vital educational start that students looking for work after graduation set themselves apart by having experience in areas of their major. This is why we are the Leaders in Scuba Education with our Easy Divers Cyprus Internship Programs, and we are proud to offer dive students the unique experience of not only getting certified and working on marine and island conservation and management projects, but also the experience of being and assistant scuba instructors to new students through our internship programs.
We have helped many students complete academic internships (Master's Thesis, PhD Thesis, undergraduate honours or degree projects) or environmental training for position with conservation groups elsewhere in the world. Because of our small program size you will get one-on-one experience and get to participate in a wide range of activities in a leadership position. Marine Scuba Internships process and programs vary per student, please contact us our conservation team directly for more information about these opportunities.
 "The aim of our program is to assist nature to improve fish stocks, marine biodiversity and replace reef loss as well as create a diverse fish habitat which fishermen and scuba divers can enjoy. Along the way the association wants its members to enjoy being a part of this challenging project for the community…"
Artificial Reef Internship – Artificial Reef Build Project
Building an artificial reef block/ cage, with ongoing monitoring.
Course Focus Points:-
Artificial reef program is staffed and organised with an Environmental Administrator who is a fully trained Padi Scuba Instructor.
Survey the underwater landscape, for the ideal placement of the
Artificial Reef
Select the best design for the area that has been selected.
Build the reef cage.
Submerge and secure.
Mark on the map where it is, and mark on a grid reference.
Photo the cage, so you can see the change over time.
Select a monitoring time frame, so to keep up with regular checks.
Write a report that includes the pros and cons, of placing artificial reefs in certain areas. What is your ideal project forecast, and how data should be recorded and the carry on with monitoring.
 Artificial Reefs Wreck Diving
This will take place on two wrecks in Cyprus. As wrecks are artificial reefs on a larger scale. We will examine depths, dates, temperatures and locations. We will be looking at life on the wrecks from One wreck is a recently sunk and placed in the sea for the creation of artificial reef. The other wreck is a well established wreck of 30 years and will compare and contrast. We call this our wreck to reef project.
At the end of our Artificial Reef Build Project, they will receive a certificate showing their achievements, and we shall keep a copy of their report and data collected to help with their dictations at college or university degree. These are actual micro modules that are part of the Marine Biology Degree or Geography Costal Management Degree
Diver Certifications and Full Training is given part as of this program.
Padi Courses achieved during this program:
Padi Deep Diver Course
Padi Digital Underwater Photography Course
Padi Enriched Air Diver Course
Padi Night Diver
Padi Peak Performance Course
Padi Project AWARE (Coral Reef Conservation)
Padi Project AWARE (Fish Identification)
Padi Search & Recovery Course
Padi Underwater Navigation
Padi Wreck Diver

Artificial Reef Internship and Artificial Wreck Reefs Diving Cyprus